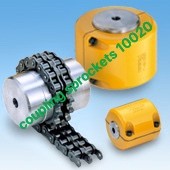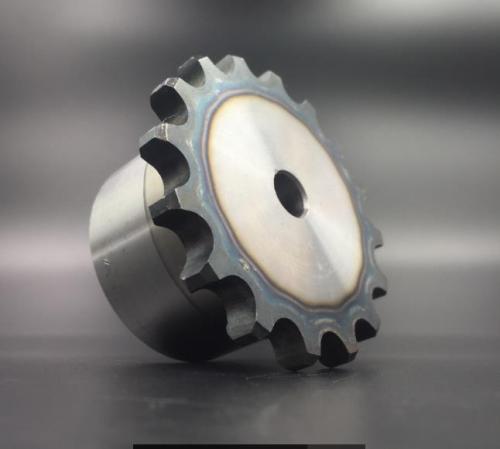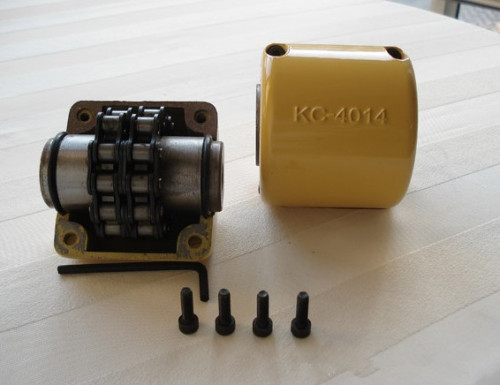 KC Coupling Sprocket 10020
Item specifics
Catalog

KC Coupling
PartNumber

KC-10020
Material

Steel C45
Pitch

31.75mm
Chain No.

ASA 100B
Teeth

20
TeethHardness

45±3Hrc
Description
KC Catalog Coupling Sprocket 10020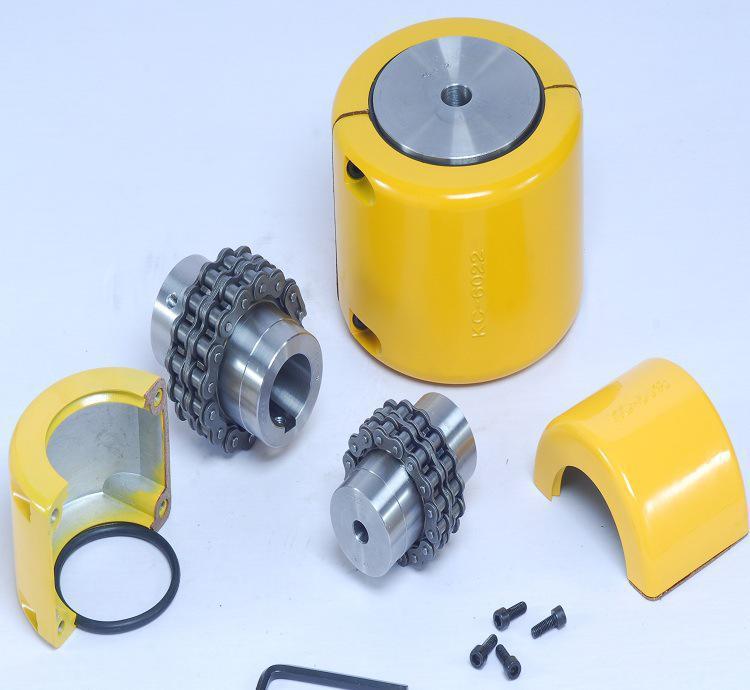 KC Catalog Chain&Sprocket Coupling
Chain coupling is composed by a duplex roller chain and two sprockets. The function of connection and detachment is done by the joint of chain. it has the characteristic of simplicity, high efficiency, easy-on and easy-offand nice out-look.
It also has a aluminium cover to prevent dust and prevent the lubricant and make the life of chain coupling longer life.
KC Coupling wide using in powder transmission equipment, such as pumps, gear boxes, mixiers, conveyors and some other industrial machines.
Zhijiang factory is offering all series couplings sprockets, chains and coupling cases, you can order sprockets, chains or case from us, or order whole sets of couplings assemble with 2pcs sprockets, one chain within couplings case.

| | | | | | | | | | | | |
| --- | --- | --- | --- | --- | --- | --- | --- | --- | --- | --- | --- |
| Part Number | Bore Range | Pilot | A | D | O | L | I | S | B | C | Weight(Kg) |
| KC-4012 | 12-22 | 12 | 77.0 | 33.0 | 62.0 | 79.4 | 36.0 | 7.4 | 72.0 | 14.4 | 0.80 |
| KC-4014 | 12-28 | 12 | 84 | 43 | 69 | 79.4 | 36.0 | 7.4 | 75 | 14.4 | 1.1 |
| KC-4016 | 14-32 | 14 | 92 | 48 | 77 | 87.4 | 40.0 | 7.4 | 75 | 14.4 | 1.4 |
| KC-5014 | 15-35 | 14 | 101 | 53 | 86 | 99.7 | 45.0 | 9.7 | 85 | 18.1 | 2.2 |
| KC-5016 | 16-40 | 16 | 111 | 60 | 93 | 99.7 | 45.0 | 9.7 | 85 | 18.1 | 2.7 |
| KC-5018 | 16-45 | 16 | 122 | 70 | 106 | 99.7 | 45.0 | 9.7 | 85 | 18.1 | 3.8 |
| KC-6018 | 20-56 | 20 | 142 | 85 | 127 | 123.5 | 56.0 | 11.5 | 105 | 22.8 | 6.2 |
| KC-6020 | 20-60 | 20 | 158 | 98 | 139 | 123.5 | 56.0 | 11.5 | 105 | 22.8 | 7.8 |
| KC-6022 | 20-71 | 20 | 168 | 110 | 151 | 123.5 | 56.0 | 11.5 | 117 | 22.8 | 10.4 |
| KC-8018 | 20-80 | 20 | 190 | 110 | 169 | 141.2 | 63.0 | 15.2 | 129 | 29.3 | 12.7 |
| KC-8020 | 20-90 | 20 | 210 | 121 | 185 | 145.2 | 65.0 | 15.2 | 137 | 29.3 | 16.0 |
| KC-8022 | 20-100 | 20 | 226 | 140 | 202 | 157.2 | 71.0 | 15.2 | 137 | 29.3 | 202 |
| KC-10020 | 25-110 | 25 | 281 | 160 | 233 | 178.8 | 80.0 | 18.8 | 153 | 35.8 | 33.0 |
| KC-12018 | 35-125 | 35 | 307 | 170 | 256 | 202.7 | 90.0 | 22.7 | 181 | 45.4 | 47.0 |
| KC-12022 | 35-140 | 35 | 357 | 210 | 304 | 222.7 | 100.0 | 22.7 | 181 | 45.4 | 72.0 |
| KC-16018 | 63-160 | 53 | 375 | 228 | 340 | 254.1 | 112.0 | 30.1 | 240 | 58.5 | 108.0 |
| KC-16022 | 80-200 | 70 | 440 | 279 | 405 | 310.1 | 140.0 | 30.1 | 245 | 58.5 | 187.0 |
Contact Information
Contact: Jimmy
Mail: info@zjsprocket.com/jimmy@zjsprocket.com
what app:+86 13588027172
Mobil: +86 13588027172
wechat:zjsprocket
Facebook: smartbhz@gmail.com